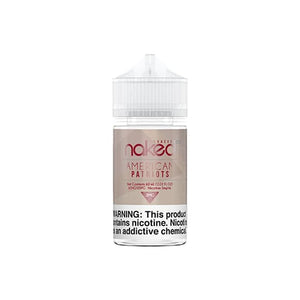 AMERICAN PATRIOTS BY NAKED 100 TOBACCO 60ML | 3,6,12MG
Regular price
₹. 1,821.19
Sale price
₹. 1,554.24
---
PRODUCT DESCRIPTION
AMERICAN PATRIOTS BY NAKED 100 TOBACCO
NAKED 100 AMERICAN PATRIOTS VAPE JUICE REVIEW

Blistered with the most incredible flavor, American Patriots is a tobacco blend that will leave you utterly satisfied from the first puff to the last. It is a complex blend that has taken time perfect with just the right ratio. If you are looking for one of the best tobacco vapes, you've certainly found it with American Patriots.
American Patriots by Naked 100 Tobacco e-juice. This incredible tobacco vape juice is the flavor of traditional tobacco cigarettes. American Patriots (Cowboy) tobacco e-juice has a full body tobacco flavor that will surely quench your cravings. Naked 100 tobacco American Cowboy e-liquid has surprisingly smooth tobacco flavored inhalation with no throat hit. During the exhale, American Patriots e juice has a rich bourbon flavor for rich full-bodied tobacco flavored vape juice. On the Inhale of Naked 100 American Patriots Vape Juice by Naked 100 e-juice the smooth tobacco will instantly satisfy you. On the exhale, the smooth bourbon flavor complements the strong tobacco flavor.
Naked 100 is a large vape company that houses a serious collection of premium vape juice. The brand is filled with a heavy assortment of flavors that can range from creams to fruits to menthols and so many more. It is headquartered in Southern California and manufactured by USA Vape Lab, one of the industry's largest and most popular manufacturing companies that create premium vape juice. It operates out of a large facility using state-of-the-art equipment. With its amazing tastes, the best quality ingredients, and the most satisfying vape, you won't find another brand to rely on than Naked 100.
Naked vape juice flavor American Patriots vape juice has a base of 65 percent vegetable glycerin (VG) and 35 percent polypropylene glycol (PG), offering vapers a nice throat hit and a smooth, refreshing taste. Give Naked 100 American Patriots e-juice a whirl to satisfy your tobacco flavor cravings.
FLAVOR PROFILE: CLASSIC-CUT RICH TOBACCO
BOTTLE SIZE: 60ML
VG/PG: 65/35