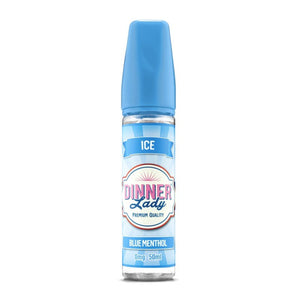 Dinner lady Blue Menthol 60ml | 6mg E-Liquid
Regular price
₹. 1,651.69
Sale price
₹. 1,355.08
---
PRODUCT FEATURES
Part of the Dinner Lady Ice flavour range, Blue Menthol creates a cool and fresh inhalation experience for a smooth vape as a replacement for traditional menthol tobacco products.
Commonly referred to as "cloud-chasing juice," this e-liquid contains zero nicotine and blends 30% of Propylene Glycol (PG) with 70% Vegetable Glycerin (VG) to create impressive, dense clouds with a rich flavour.
Containing 50ml of nicotine-free e-liquid within a 60ml bottle, Shortfills allow vapers to add their own nicotine or CBD shots for total control, convenience, and cost-effectiveness. Depending on how much you vape, the length of inhale and your device, a Shortfill bottle can last for several weeks and can be more cost-effective than buying premixed formulations.
Made in Britain, all Dinner Lady Shortfills are finished products that are both MHRA and TBD compliant. Dinner Lady operates strict Quality Control Measures within clean room laboratories and state-of-the-art operational facilities right here in the UK.
Flavour also known as Heisen Lady.
HOW TO USE
To use, simply unscrew the lid, remove the cap and squeeze the desired amount of nicotine or CBD into the Shortfill liquid. Replace the lid and shake thoroughly to mix the formulation. Wait a few minutes for the bubbles to settle then fill your tank and start vaping.
Adding an 10ml nicotine shot to a 50ml Shortfill bottle of e-liquid provides approximately 3mg of nicotine. Alternatively, CBD users can add a CBD boost shot – a flavourless mix containing CBD in various strengths – allowing you to enjoy CBD in your favourite shortfill flavour.
Typically used for sub-ohm vaping, Dinner Lady Shortfills can be used with either Box Mod or Pod Mod devices.
Bod Mod devices have higher power outputs and, when paired with lower resistance coils, are able to vaporise thicker, high VG liquids at higher temperatures to create thick, fluffy clouds.
High VG liquids are also compatible with Pod Mod devices when using a sub ohm coil and a higher wattage.
WARNING: THIS E-LIQUID MAY CONTAIN TRACES OF NUTS.