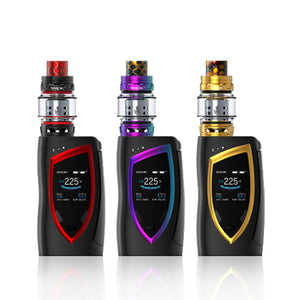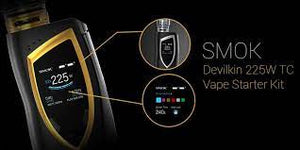 SMOK DEVILKIN 225WT KIT INDIA
Regular price
₹. 7,795.76
Sale price
₹. 7,202.54
---
Smok Devilkin Vape Kit
The SMOK Devilkin 225W TC Starter KIt exemplifies the design prowess of SMOKTech, developing a visually stunning vape device with 1.3" HD OLED display to pair with the industry-leading TFV12 Prince Sub-Ohm Tank. The SMOK Devilkin 225W Box Mod integrates a beautiful "blade" edge surrounding the OLED screen with colourful high-quality resolutions on the front-end. The entire visual masterpiece combines luxurious yet powerful experience, while small details such as stealth lateral firing bar and creatively placed adjustments buttons provides ergonomic support. The internal chip-set can fire up to an impressive 225W, along with comprehensive temperature control suite that packs in adjustable TCR as well as preheat capability and Memory Mode.
vape 225wt kit in india best vape in india , vape shop india ,vape billiorsonn delhi , vape buying near me , vape in delhi , vape in banglore, vape in mumbai, quite smoking start vape, vape in channai india  
FREE 5 X 10ML High VG, UK MADE, E LIQUID INCLUDED IN THIS DEAL!
Each kit comes with the most popular tank of 2018 so far, the SMOK TFV12 Prince features a maximum capacity of 2ml, button-lock hinged top-fill, smooth dual bottom airflow control, and the versatile TFV12 Prince Coil System. A truly phenomenal balance of high-performance and exquisite designs. Powered by dual 18650 high Amp batteries (Not Included) there is enough power to keep you vaping all day. 
FREE 5 X 10ML High VG, UK MADE, E LIQUID INCLUDED IN THIS DEAL!
Please note: Images are for illustration purposes only. Tank provided with this kit is the 2ml UK TPD compliant version. 
Features:
• 510 Threaded
• Wattage Range: 1.0 - 225.0W
• Output Voltage: 0.5 - 9.0V
• Variable Temperature Control: Nickel 200 / Titanium / Stainless Steel / TCR
• Temperature Control Range: 200 - 600F / 100 - 315C
• Resistance Range: 0.05 - 2.0ohm for Temperature Control Mode
• Resistance Range: 0.1 - 2.5ohm for Variable Wattage
• Large Tactile Hidden Side Fire Button
• 1.3" OLED Display Screen
• Redesigned User Interface
• Six Different Interface Colours
• "Blade" Design for Front and Back Panels
• Powered by 2x 18650 Batteries (Not Included)
• Front Micro USB Charging Port
SMOK TFV12 Prince Sub-Ohm Tank Features:
• 25mm Base Diameter
• 5mL Standard Juice Capacity
• 2mL Maximum Juice Capacity – TPD Compliant
• Superior Stainless-Steel Construction
• High-Grade Glass Reinforcement
• High-Temperature Resistant - Explosion Proof
• Convenient Top-Fill Rotary Design - Lock Button Mechanism
• Massive Dual Adjustable Airflow Control at Base
• 810 Cobra Resin Ultra-Wide Drip Tip
• Performance-Grade V12 Prince Coil Structure
• 0.12ohm V12 Prince-T10 Decuple Coils - rated for 60-120W
• 0.4ohm V12 Prince-Q4 Quadruple Coils - rated for 40-100W
• 510 Connection
Includes:
• 1 x Devilkin 225W Box Mod
• 1 x TFV12 Prince Sub-Ohm Tank
• 1 x 0.4ohm V12 Prince-Q4 Quad Coil
• 1 x 0.15ohm V12 Prince-T10 Dec Coil
• 1 x Spare Glass Tube
• 1 x Micro USB Cable
• Instructional Manual
Note: The Smok Devilkin Kit doesn't come with a lot of liquid. More can be ordered from our E Liquid pages. Low nicotine e juices are recommended for use with this high-power sub-ohm vape kit.

Replacement Coils:
Replacement TFV8 Baby coils are available from our Accessories pages, click here for link.
Warranty:
For warranty information see our terms & conditions page.