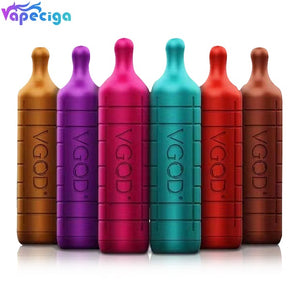 VGOD Little King Kong Disposable Vape Bar 2000 Puffs INDIA
Regular price
₹. 2,499.00
Sale price
₹. 1,299.00
---
Description:
VGOD Little King Kong Disposable has become quickly gaining the spotlight for its thrilling name, sleek appearance, powerful performance, and satisfying tastes. These are compact, disposable vaping devices that were made for smokers by VGOD, and you can feel and taste them in every last draw. The specially formulated flavors offer an outstanding taste that is sure to dance on your tongue and leave your mouth watering for more to come. Sporting a unique design that not only looks appealing but also enhances comfortability, the newly VGOD Little King Kong Disposable Vape is a joy to use and own. Looks like a mini baby bottle that can easily fit in your pocket and palm. A lovely appearance will attract attention. It comes with a vape juice capacity of 6.5ml and 3% salt nicotine for satisfactory mouth to lung. The VGOD Little King Kong disposable device is equipped with a 1000mAh battery, which is enough to deplete the last drop of e-liquid without any need for charging or complicated settings. This disposable delivers approximately 2000 puffs before disposal and operated via a draw-activated firing mechanism for quick and easy vaping; no need for any buttons. If you enjoy the satisfaction of disposable devices, where there isn't any mess, spills, or hassle some learning curve, then you'll fall in love with the new VGOD Little King Kong Disposable. Choose from any one of VGOD Little King Kong's tasty flavors and find out what's your favorite.

Main Features:
1. Unique mini milk bottle appearance
2. All-in-one disposable device
3. Prefilled 6.5ml E-juice Capacity
4. 3.5% Nicotine Salt by Weight
5. Approximately 2000 Puffs Per Pod
6. Draw Activated Firing Mechanism
7. Zero Maintenance Required
8. Lightweight, Cute, Portable
9. Ergonomic mouthpiece
10. Delicious flavors and a satisfying throat hit

Specifications:
Battery capacity: 1000mAh
E-liquid capacity: 6.5ml
Nicotine strength: 3.5%
Puffs: 2000 Puffs

Package Contents:
10 x VGOD Little King Kong Disposable Vape (2000puffs) INDIA.