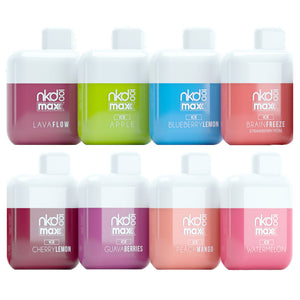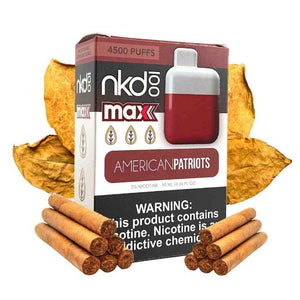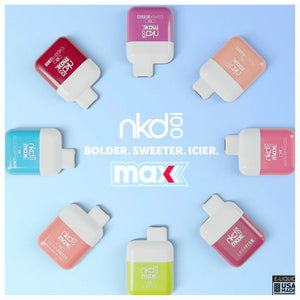 NKD 100 Max Disposable Vape 4500 Puffs
Regular price
₹. 1,609.32
Sale price
₹. 1,355.08
---
Naked 100 brings vapers a disposable e-cig that has many of their classic favorites including a host of new flavors. The device has an approximate 4500 puff count, is pre-filled with 10.0 mL of nicotine salt e-liquid, and is ready to vape right out of the packaging. It also features a slim and compact design for easy and convenient traveling.


FLAVOUR DESCRIPTIONS OF NAKED 100 MAX 4500 PUFF DISPOSABLE POD:
BRAIN FREEZE (STRAWBERRY POM) ICE
Smother your mouth with sweet aromas of strawberry, pomegranates and kiwis. One of the most popular flavours and original flavours to every come out from Naked 100 that remains popular til today.
WATERMELON ICE
Juicy and aromatic watermelons thats simply mouthwatering to keep you coming back from more. It's so easy to choose this instead of  ciggies when you vape this one all day. 
PEACH MANGO ICE
Just when you get bored of vaping whichever flavour you're on at the moment, this peach and mango is ready to distract and refresh your tastebuds with its bone chilling menthol and vibrant fruity combination. Sweet peaches and mango makes for an excellent combination that we know you'll soon see as a favourite.
BLUEBERRY LEMON ICE
When we vape this one, we cant help but marvel at the clarity of taste. There is no two ways about it - you get subtle yet clear flavour of sweet blueberries, and a dash of tangy lemons that's balanced perfectly with a background of cooling and refreshing menthol to boot. A thrilling vape from the first puff onwards.
APPLE ICE
The obvious tangy green, granny-smith apples dominates this mixture that is just begging for a puff. This apple is like an apple-cooler mixture with its mixture of crisp apples and dose of menthol.
LAVA FLOW
Sit back in your lounge chair and relax with this extraordinary mixture of strawberries, pineapples and a touch of coconut to take your to a tropical island. This is a delicious and award winning flavour by the people at NAKED 100 and a must-try for all. 
CHERRY LEMON ICE
One of the most groundbreaking flavours we have tried from Naked 100. The originality of this flavour is hard to describe. It's like a sweet lemonade flavour with a unique and uncommon cherry blend in the background that elevates this clearly out of the ordinary. When you want a truly original blend - go for this cherry flavoured one.
GUAVA BERRIES ICE
Just when you thought that vaping fruity flavours was getting boring, reset your tongue with this enriching and complex blend of green guava. Guava just brings a unique aroma with heavy tropical vibes to deliver a flavour sensation that will wet your appetite. The dash of mixed berries in the mix adds a nice subtle touch. A mentholated blast at the end will also cool you down. 
AMERICAN PATRIOT
Extinguish your craving for tobacco with this hand cut tobacco, deep and rich with a hint of very mild sweetness. Incredible with a full-bodied taste with a tinge of bourbon like richness, made for experienced tobacco users and amateurs alike.

HAWAIIAN POG
Passionfruit, Orange and Guava make up this trifecta of rich fruits known as Hawaiian POG. On the inhale, let the sappy juice-rich orange flavour glide across your tongue followed by tart and tangy passionfruit. The sweetness of guava adds un unmistakeable tropical fruit vibe to this vape. So easy to love.
GRAPE ICE
Naked 100 is testing the boundaries of what a grape vape should taste like and Grape Ice does not disappoint. With its unique aroma that's light, fruity and tasty, you can't go wrong with the quality of this grape inspired flavour by Naked 100.
ARCTIC AIR
Envelope your mouth and nostrils with this frosty and cold offering known as Arctic Air. What a suitable name for a straight up mint flavoured vape with a nice mentholated boost on the exhale. Bone-chilling for the people that really enjoy their menthol cigarettes, this makes a great substitute for that
Specifications:
10.0 mL per e-cigarette (0.34 FL OZ)
5% nicotine by weight (50mg/mL)
Approximately 4500 puffs per device
Made nicotine salt e-juice
Pre-charged and pre-filled

Manufactured in China
Rechargeable
USB Type-C charge port
Draw-activation firing mechanism


Package Contents:
1 X NKD 100 Max Disposable E-Cigarette