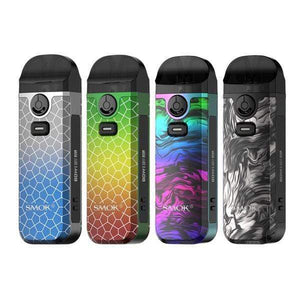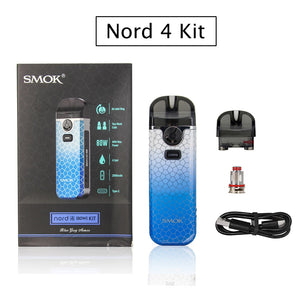 SMOK NORD 4 80W POD KIT INDIA
Regular price
₹. 4,660.17
Sale price
₹. 4,066.95
---
SMOK Nord 4 80W Pod Kit INDIA
The Nord 4 from SMOK is their latest creation in the Nord Pod range.
With a powerful 2000mAh battery and an 80W max power output, this is the most powerful Nord to date beating the Nord X and Nord 2 by a good 500mAh and 20-40W more powerful.
But it doesn't stop there, SMOK have introduced a new look with the Nord 4 and shied away from their well-known resin and cobra patterns to introduce a range of variations with an Armor pattern and a more reserved leather series.
The body of the Nord 4 is larger than the Nord X, but only by a few mm and slightly heavier, but its elegant new design keeps it looking chic.
Complete with an OLED display screen for all your vape settings, the device comes with a single power button that houses the LED indicator light, along with dual adjustment buttons, so is fully customizable.
The Nord 4's airflow is another new design feature from SMOK and comes in the form of two wheels on each side of the mod, enabling the flow to be dialled to the perfect adjustment to suit your vape style.
Two large 4.5ml replacement Nord 4 pods, the RPM and RPM2 pods come included in the kit, both with pre-installed coils, the RPM has a 0.4 Ohm mesh coil and the RPM2 a 0.16 Ohm mesh coil and are both compatible with their full RPM and RPM 2 coil families for a plethora of options.
The coils included are both sub-ohm intended for regular vape juice but the RPM and RPM2  india coil families cater for stronger nic salts too.
Despite the bigger battery capacity the Nord 4 has a USB C charging cable, meaning that it charges faster so there's no hanging around.
Along with the usual protection measures, the device comes with automatic pod detection, so there's no worry about re-setting each time you feel like switching the pods up for a different flavor or vape experience.
The Pod comes with a side refill port, silicone stopper and magnetic pod connection and the coils are an easy plug n' play installation.
The Nord 4 has not only had a makeover but has matured into a powerful, versatile, slick device that is leading the way in SMOK pod kits, so take this baby home with you today for powerful satisfaction, full of tasty clouds.
SMOK Nord 4 Mod Spec:
33.7 x 24.4 x 104.9mm Dimensions
115-125g
2000mAh Integrated Battery
5-80W Power Output
0.15-2.5ohm Resistance Range
Dual Airflow Adjustment Dials
Single Firing Button & Dual Adjustment Buttons
OLED Screen
1.1A Type-C Fast Charging
Protections for: Pod Detection, 8 Seconds Cut-off, Short Circuit and Low Voltage
SMOK Nord 4 Pod Spec:
4.5ml Vape Juice Capacity
Side Fill Port with Silicone Stopper
RPM & RPM2 Pods (with preinstalled coils)
x1 0.4 Ohm Mesh RPM Coil, (perfect for regular vape juice)
x1 0.16 Ohm Mesh RPM2 Coil, (perfect for regular vape juice)
Compatible with the RPM & RPM2 Coil Families
Smart Pod Detection
Magnetic Pod Connection
 SMOK Nord 4 Pod Kit Includes:
1 x Nord 4 Device
1 x 4.5ml Nord 4 RPM 2 Pod (RPM 2 Mesh 0.16ohm Coil Pre-installed)
1 x 4.5ml Nord 4 RPM Pod (RPM Mesh 0.4ohm Coil Pre-installed)
USB Type-C Cable
User Manual
Disclaimer:
Please ensure you read through the manual that comes with your product so that you understand how to safely operate your device.
If you are using external batteries we always recommend that you charge them using an external battery charger. Not only do they provide a more balanced charge they help to prolong the life of the battery. If you are charging your batteries inside the device it can lead to significant wear and tear on the micro USB port.
Always be sure to check the condition of the battery when removing or inserting it into your device, never use batteries with a damaged sleeve. If your device uses two or more batteries it's recommended that you use the same brand, model and charge levels to ensure safe output levels. Before purchasing batteries vaping.com recommends you read the advice of battery aficionado Mooch on ECF. Mooch is a highly respected professional battery tester and has been providing excellent guidance and advice on which batteries to choose.
Misuse or mishandling lithium-ion batteries can pose a risk of personal injury and/or property damage. Vaping.com are not held responsible or liable for any damage caused by modifications of devices, batteries or chargers. For more information on please refer to the vaping.com terms of service. Always take great care when charging and never leave batteries charging unattended. Always charge batteries on a clean and fire-proof surface to protect yourself and your property.
Lithium-ion, Lithium-ion Polymer and any rechargeable batteries have extremely sensitive charging characteristics, if handled incorrectly they might overheat or vent. If you are transporting your batteries please ensure that you're storing batteries in a non-conductive container.
Always dispose of your batteries in a safe and responsible manner. Vaping.com recommend visiting call2recycle.org. You can drop off your old batteries for free at thousands of convenient locations across the U.S, including Home Depot, Lowe's and Staples.