UWELL – CALIBURN AK2 POD SYSTEM
The Uwell Caliburn AK2 Pod Kit is one of the most compact and simple kits on the market, thanks to its built-in 520mAh battery and its draw activation, there is no need for fancy screens or settings to worry about, insert the pod and draw vaping couldn't be simpler.
Utilizing the Caliburn A2 disposable pods which have an integrated coil and will last for a while, simply fill up multiple times and once the coil has reached its lifespan which is usually indicated by a loss of vapour production, Taste and a slightly dry sensation just dispose of the pod and replace. The A2 pods are best used with 50/50 or Higher PG liquid.
To ensure you get the most out of your pod the AK2 features a nice size viewing window on the side to give a clear view of the pod and the E-liquid level as well as a fixed output power method meaning, unlike some devices, you will get full power output to your pod no matter what the battery level, a battery LED battery indicator at the side of the device will give you a clear readout off the status of you battery cycling through 3 different colours, green, blue and red. The red Indicator means its time to charge with power less than 30%.


Uwell Caliburn AK2 Pod Kit Parameters:
| | |
| --- | --- |
| Brand | Uwell |
| Product Name | Caliburn AK2 Kit |
| Wattage Max | 15W |
| Battery Capacity | 520mAh |
| Size | 43.5*11.8*67.9mm |
| E-juice Capacity | 2ml |
| Coil Resistance | FeCrAI UN2 Meshed-H 0.9ohm |
| Filling Type | Top filling |
| Colour | Neon Orange, Turquoise Blue, Graphite Gray, Classic Black |

Uwell Caliburn AK2 Details:
1. Exclusive PRO-FOCS technology
2. E-liquid check window, prevent coil burning
3. Meshed-H 0.9Ω Pod, top filling
4. Type-C fast charging
5. Draw-activated firing mechanism
6. Compatible with Caliburn A2 Pod Cartridge
7. Easy to carry with a silicone lanyard
8. Diagonal stripes symbolize design
9. One hand uncapping design, top filling
10. Powerful magnetic cartridge
11. Anti-leaking design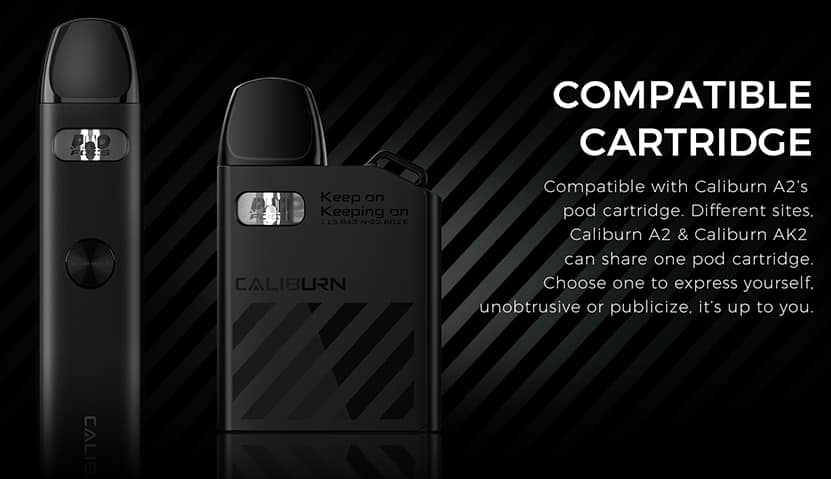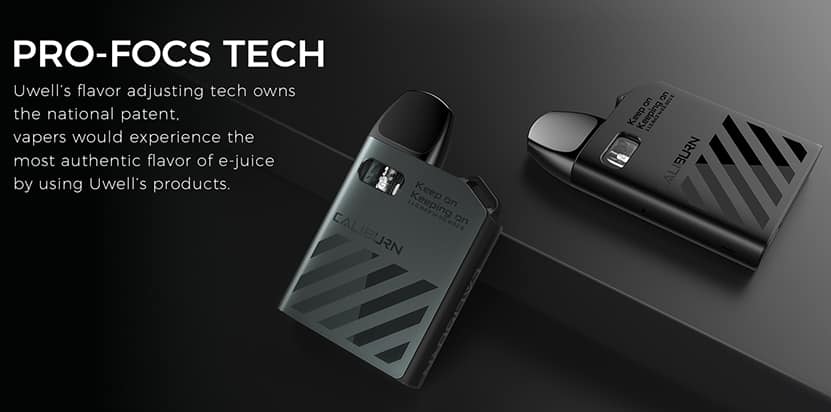 The package of Caliburn AK2 Comes With:
1* Caliburn AK2 Device
1* UN2 Meshed-H 0.9ohm Refillable Pod(Pre-installed)
1* UN2 Meshed-H 0.9ohm Refillable Pod(Spare)
1* Silicone Lanyard
1* User's Manual