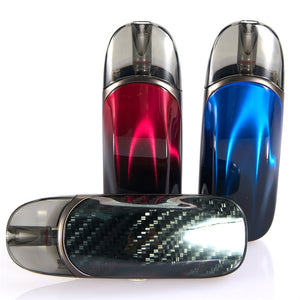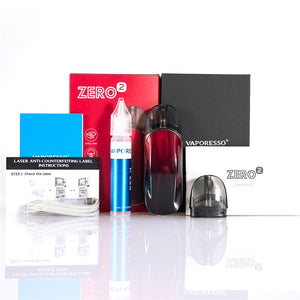 VAPORESSO ZERO 2 POD KIT INDIA
Regular price
₹. 3,304.24
Sale price
₹. 3,134.75
---
Zero 2 Pod Kit by Vaporesso is the upgraded version of the Vaporesso Zero Renova Pod Kit and just like the original version, it's suited to beginner vapers because it's sooooo easy to use. The Zero 2 Pod Kit has auto draw meaning you just draw on the mouth piece to vape, 3mL vape e-liquid capacity and an 800mAh battery that'll take you through most of the day. Plus, the child-proof push-to-fill from the bottom of the Zero 2 Pod lessens chances of leakage and makes is safe to carry.
A SPORTS CAR BODY ON THE ZERO 2 BATTERY
The side profile of the Vaporesso Zero 2 Pod Kit is reminiscent of a luxury sports car, with smooth curves and high gloss finish. Since it has no wheels, it's more likely a flying sports car, from the future... From waaaaay in the future. The Zero 2 curved side fits in the palm of your hand perfectly and the smooth finish is so pleasant to touch, you won't want to put it down. Don't judge a book by its ridiculously good-looking cover though, check out the Zero 2 Battery's soul:
Tidal lights: four small arrows light up like a wave, one after the other, as you vape and show you the battery capacity; one arrow meaning low battery capacity and four meaning fully charged.
Auto draw: simple draw-to-vape from the mouth piece without worrying about pressing buttons, changing wattage and all that vape jazz.
800mAh battery: just enough battery juice for the low-wattage vaping you'll be doing with the Zero 2 Pod Kit. It's more than the 650mAh of the original Zero Renova Pod Kit.
45 minute charge with Type C charging.
Safe carry: place it in your pocket or hand bag as is. Without buttons, it can't accidentally be pressed to fire!
Futuristic design: a result of 10 layers of IML (in-mould labelling) with a dazzling glossy finish.
MOUTH-TO-LUNG (MTL) THE ZERO 2 PODS
Like the original Zero Renova Pods, the Zero 2 Pods are specifically made to deliver a tight, restricted draw that you hold in your mouth briefly before inhaling to the lungs; that is, MTL vaping. If you're thinking about using the Zero 2 Pod Kit in place of the stinky sticks, it will simulate that draw quite well! (Disclaimer: vapes are not approved smoking cessation devices in Australia… Yet.)
Zero 2 Pods will make your vape life easy with their simple features:
Disposable: no changing coils and cleaning vape tanks. Just throw out old pods that don't vape well anymore and replace them with a new one!
3mL vape juice capacity: top up less with the low wattage, high-resistance Zero 2 Pods.
Push-to-fill: remove your pod from the Zero 2 Battery, push your e-liquid bottle nozzle in the hole at the bottom and squeeze to fill. Access to the e-juice inside the pod is only through this fill port that must be pushed to open, making it more leak resistant and child-proof.
E-liquid 10mL travel bottle: included in the kit is this useful little bottle that you can fill with e-liquid to carry with you while out and about. The nozzle is also a perfect size for the Zero 2 Pod fill port, just in case your bigger juice bottle isn't.
Transparency: easily see your vape juice level and top up before empty so you don't burn your coil.
Versatility: original Zero Renova Pods can be used with the Zero 2 Battery and Zero 2 Pods can be used with the original Zero Renova Pod Kit.
Stable vapour flavour: your flavour will remain consistent regardless of battery capacity with either pod type (CCELL or Mesh).
Tighter MTL vaping experience with SSS leak-resistant technology which stands for:

seal comprehensively

 

to keep the air pressure in for a tighter draw
store safely

 

with seal that may prevent leaking while not in use
saturate properly

 

(coil cotton) to avoid burning the coil or getting a dry hit (aka helps prime coil and keep the cotton wet while vaping).
In a nut shell, Vaporesso took the original Zero Renova Pod Kit and made it better in our opinion. The Zero 2 Pod Kit features a large battery for its small stature, great MTL vaping and uber-easy vaping with simple auto draw. Great for beginner vapers or for anyone who needs a really compact, pocket-friendly vape kit as a back up. Did we mention the Zero 2 Pod Kit is really, really, really, ridiculously good-looking?
Please note:
As always, remember to prime new pods. Fill the pods with vape juice and wait five minutes before using. This ensures the coil cotton is saturated and avoids getting dry hits or burning your coil prematurely.
VAPORESSO ZERO 2 POD KIT SPECIFICATIONS:
Size: 89 x 19 x 31.8mm
Vapour e-liquid capacity: 3mL
Built-in battery capacity: 800mAh
Type-C USB charge port 1A
Tidal power indicator
SSS Leak-Resistant Tech
PCTG CCELL and PCTG Mesh Pods
1.3 ohm CCELL Coil - good vapour flavour, nice throat hit with cooler vapour

1.0 ohm Mesh Coil - warmer vapour, little bit more vapour flavour and throat hit
Compatible with original

 

Zero Renova Pods

 

&

 

Zero 2 Pods

PACKAGE INCLUDES:
Vaporesso Zero 2 Mod/Battery
Zero 2 1.0ohm MESH Pod
Zero 2 1.3ohm CCELL Pod
E-liquid filling bottle (10mL, empty)
Type-C USB charging cable
User manual
Warranty card